NEWS
Walpole Power List 2023
On the 25th January 2023, Walpole revealed its annual Power List to celebrate fifty of the most influential people in the British luxury sector.
We are proud to share that Marie Karlsson, Creative & Managing Director of Cole & Son  was selected as one of the Power 50 Taste Makers: Influencers with a great network who others look to for advice and inspiration.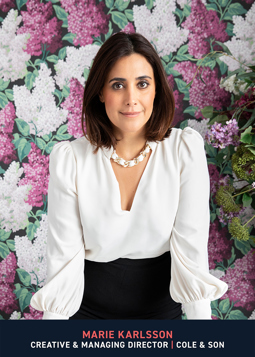 Marie Karlsson is the Creative & Managing Director of Cole & Son, a luxury British design house within Embellence Group. Cole & Son is known for beautiful, English artistic quirk which is seen throughout its vast portfolio of wallcoverings, textiles, and ready to style pieces. Marie has led the design house for 6 years and has been working with Cole & Son for more than a decade. With a background in the arts and interiors industries, as Creative & Managing Director, Marie has a multidisciplinary role where she is driven by her passion for art and craft.
For more information about Cole & Son, visit their website.

In 2020 we changed the name of our company, from Wallvision to Embellence Group.